With U every step of the way
The fact is, mental health always impacts both profit and performance, but improving them at the same time as culture and wellbeing can be challenging. HD&U's TeamLife Program provides insight, guidance and support to achieve all three.
We work with you to reduce staff churn, improve productivity and profitability, increase morale and engagement, protect your brand, and comply with new psychosocial harm regulations.
A unique and scientific approach
Our TeamLife Program is based on organisational psychology and behavioural science. We deliver our services via cutting-edge software and with targeted coaching.
We are the only organisation to provide these services to the Australian Real Estate Industry.
The TeamLife Program
The five key benefits of our unique TeamLife Program include:
Improved agility & market share

Faster skill improvement

Improved culture & retention

Higher productivity

Team & self-awareness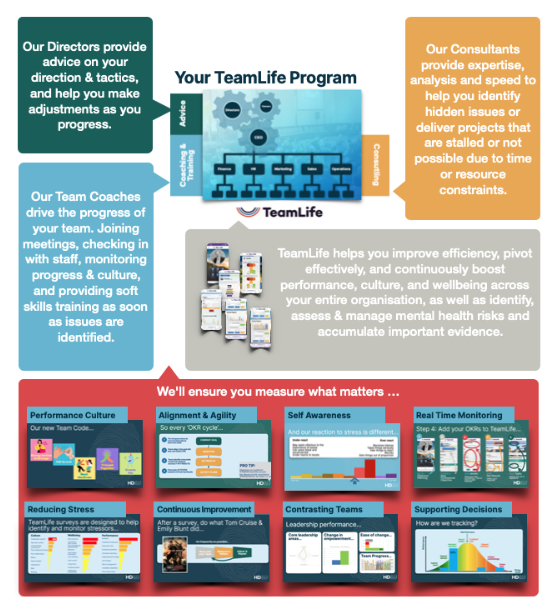 Testimonials
"Everyone is proactive, positive & present. We're supporting each other, on top of our work and up to date." 

— S
"The program continuously makes a huge impact. Both culture and wellbeing improve everyday it is running. People are also connecting, relying on each other and achieving results." 

— N
"We are enjoying this process and achieving all our goals. Everyone is balanced, really connecting and contributing together." 

— S